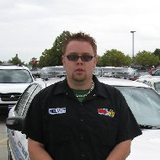 Bio
WORD, and welcome! I'm media darling and national treasure Helmut VonSchmidt, beloved by 10's of people! I am the whacky night guy and although I am the youngest member of the air staff I have been at KBER the longest, I know I am as confused as anyone!
I started here in July of 1992, and much like herpes, I won't go away, no matter what kind of topical ointment is applied! If you haven't noticed I will go for the cheap vulgar laugh, proof that I have found my true calling, nighttime radio chimp!
Join me Monday through Friday evenings from 6p-Midnight for "Helmut's Wide World of Sports" , "The Rock and Roll Buffet " where I throw down a true buffet of rock new and old (it's not just a clever name kids), "Mandatory Metallica" (if I have to explain this one then you have issues), and lots of free poop (it's free poop from me to you). That's right I WILL bribe you to listen!
If you would like to chat with me for some reason, then hit my happy ass up!
Text me @ 801-570-KBER
Email: [email protected]