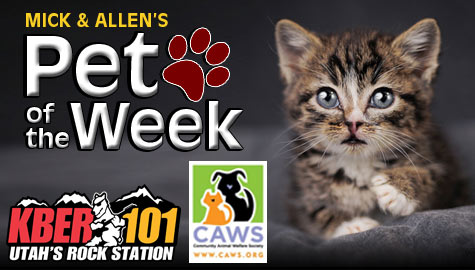 Every week KBER will highlight The Mick & Allen Pet of The Week from C.A.W.S. – Community Animal Welfare Society.
Listen to The Freak Show with Mick & Allen every Thursday at 5:30 to hear about the pet of the week
FOSTER NEEDED
Hi! My Name is Pancake and I am an affectionate young girl who wants to be your best friend.  I am an American Pit Bull Terrier who is roughly 3-4 years old.  I weigh about 60 pounds and I am full of spunk and kisses!  My foster mom is a veterinarian and thinks I am pretty darn healthy (and perfect).  She says I fall in love with humans fast, and will devote my life to you, if you are willing to welcome me into your family. I am fiercely loyal and although am high energy, I listen well to commands and am eager to please.  I actually like my crate (so long as there are comfy beds involved).  I don't always love going into it, but with some coaxing and treats, I will eventually listen!  My foster mom has me in a crate all day long at her veterinary clinic and I sleep most of the day.  I am let out a couple times to go potty, but I am pretty good at holding it, and seem to be potty-trained.  My foster mom does not have a fenced yard, so she takes me for walks on a leash and I love it.  I do wear a snazzy, durable harness, which does help.  She tried a gentle-leader on my muzzle, but I was not used to this and need some more time to figure that weird thing out.  It takes me a minute to figure out where I want to go potty, which is fine, as long as my owner is patient.  But I bet having a fenced in yard would be even better!
My favorite activity thus far seems to be trying to play with my foster brothers, who are not as keen as I am to wrestle. I also love sleeping and I am probably considered a master of cuddling.  My one flaw probably is that I snore a little bit, but it's not too bad!
I seem to be very good with other dogs, so long as they also love romping around.  I can be a bit bold, and shy dogs might not love my electric energy.  I also love cats, but maybe too much.  My foster mom has a cat who is not too keen on me, and when she hisses, I think it is time to play.  I would say I am not so good at reading social cues.  Which brings me to my biggest flaw:  I need some work with my manners.  But hey, who doesn't!?
My energy level and size are probably not ideal for small children.  I can get super excited at times, and the little ones could get knocked over, so I think a household with older or no children would be the best for my temperament.
If I had to request a few things in my perfect home (although I don't want to be too picky), it would be someone who loves me as much as I love them, a home that allows me to run off some steam each day, and a home that understands I am still young and have a few things to learn.
Overall, if I had to describe myself in 3 words, it would be happy, energetic, and lovable!
Please consider fostering or adopting Pancake. If you would like to add Pancake to your family, visit www.caws.org to fill out an application. You can also view all of our available cats and dogs at www.caws.org.